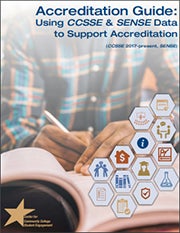 CCCSE surveys—the Community College Survey of Student Engagement (CCSSE) and the Survey of Entering Student Engagement (SENSE)—have long been a resource and a standard for measuring student engagement on community college campuses. However, what is not well-known is that these tools can assist institutions in making its case for meeting accreditation standards. While CCCSE survey data are not direct measures of student outcomes, they are measures of student behaviors: CCCSE surveys measure the extent to which students are engaged in educationally meaningful activities that are empirically linked to student success. If used systematically over time, CCCSE survey data can provide deep insights on the appropriateness of institutional goals and demonstrate the extent to which an institution is meeting its educational objectives. This guide serves as a tool for utilizing CCCSE survey data.
One of the most powerful ways institutions can utilize the following information is by understanding how other institutions have worked with CCCSE survey data in the accreditation process. Please see the vignette section below for examples of how others have incorporated CCCSE survey data into accreditation work.
If your institution would like to share how it has used CCCSE survey data in the accreditation process, please contact us at info@cccse.org or 512-471-6807.
Download the guide here. (Updated August 2019)
Vignettes

MSCHE:
Middle States Commission on Higher Education
Coming Soon